Our unique business model is built around our ability to deliver successful commercially-driven strategies while being very mindful of the mission and objectives of the government bodies and not-for-profit industry associations we represent.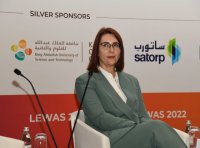 OTC
I have known E3 for many years and attended many of the industry events they support worldwide. They enjoy a very strong reputation with many of the same stakeholders we work with all over the world. Whenever we have opportunities to collaborate, I have witnessed firsthand the strategic value their management brings to our business and the highly effective level of execution to in supporting our sales and marketing activities.
Michelle Boyd
Chief Global Events Officer
Society of Petroleum Engineers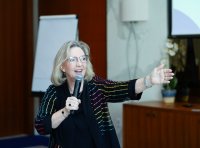 iSAW
E3's commitment to support the advancement of women in Energy and beyond is nothing short of outstanding. They have been a driving force, promoting and enabling women in the industry. E3 is a true partner for iSAW, helping us every step of the way, elevating the topic and importance of gender economic equality.
Nancy Speidel
Founder and CEO
iSAW International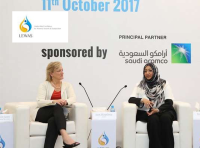 LEWAS
It would have been impossible to launch and successfully deliver multiple editions of the Leadership Excellence Women Awards and Symposium without the vision, drive and event management skills of Energy Events Experts and its dedicated staff. I feel privileged to be part of this industry initiative.
Reem Al Ghanim
LEWAS Chairperson
Saudi Aramco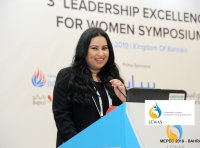 LEWAS
Since 2013 and the successful commencement of MEPEC, E3 played a major role in attracting thousands of delegates to the Kingdom of Bahrain, subsequently developing business tourism for the country. Their contribution has been very important to the economic development of Bahrain. Their ability to consistently deliver world-class projects is special. On a personal level, I also truly appreciate their never-ending commitment to supporting the LEWAS initiative and I wish to express my gratitude to the many exceptional women working in E3.
Ezz Almannai
LEWAS Co-Chair
Ministry of Oil, Bahrain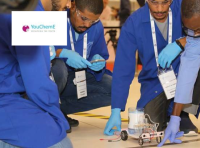 YouChemE
Alexis and his team have been of great support to our young engineers and students over the years. Together, we have attracted thousands of future energy leaders from the region to attend the YouChemE activities alongside MEPEC and I am very thankful for what has been achieved to date.
Dr Basim Abussaud
Assistant Professor
KFUPM (Saudi Arabia)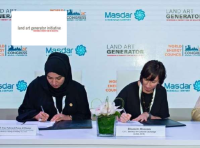 Land Art Generator Initiative
Thanks to Pamela Nazareth, Alexis Neron-Bancel, Frederic Malgoire, Ben Bladon and the entire Organising Committee of the 24th WEC. Pamela Nazareth initiated and championed the idea of a 2019 LAGI design competition for Abu Dhabi. Thanks to her efforts, the LAGI 2019 exhibit debuted at the 24th World Energy Congress, the first WEC to serve as a venue for an international art and design exhibition.
Robert Ferry and Elizabeth Monoian
Founding Co-Directors
Land Art Generator
BChemE
E3 has been an excellent supporter of BChemE since its launch in 2017. Their advice and support was instrumental in helping our team of young professionals set up our first youth event in a regional conference. Since then, and with E3's support, we have been able to design and deliver exciting and well attended youth programs in other conferences.
Fatema Husain
Co-Chair
BChemE Bahrain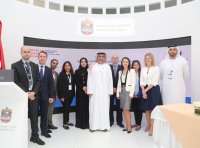 24th World Energy Congress
E3's overall performance played a major role and very importantly, it was a great relief for me to know that E3 was always available to help us overcome any challenges throughout the planning stages.
H.E. Dr. Matar Al Neyadi
Chairman / Undersecretary
24th Congress OC & UAE Ministry of Energy and Industry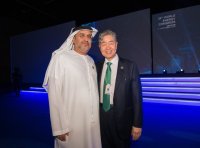 World Energy Council
Their fast response and customer-friendly approach were very helpful.
Younghoon David Kim
Chairman & CEO
Daesung Group & WEC Korea